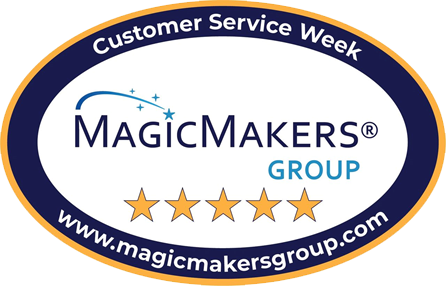 Press Release: New Studios of Expertise & Free Live Webinar
MagicMakers® Group Celebrates Customer Service Week By Unveiling Its 'Studios of Expertise' And Offering A Free Webinar With Their Disney Experts
CONTACT | George McNeilly, McNeilly Communications | [email protected] | (407) 791-6851
October 5, 2020 – Orlando, FL | Today, in honor of National Customer Service Week, MagicMakers® Group, a consultancy of longtime Disney executives and leaders representing one of the most diverse teams of practitioners in the marketplace, unveils its 'Studios of Expertise'. The company leverages its vast customer experience acumen to help businesses bridge the gap between brand promise and operational excellence through its 'Studios' in Theme Parks & Attractions, Hotels & Resorts, Retail, Food & Beverage, Sports & Venues, Cruise Lines, Souvenir Photography, Contact Centers, Consumer Insights, CRM & Loyalty, Design Thinking, Industrial Engineering, Strategy & Feasibility, and Strategic Communications.
What this means to businesses everywhere is that MagicMakers® Group experts can apply their unique perspectives, essential hands-on applications, and diverse experiences to many varied industries. "For longtime former Cast Leaders like us, Customer Service is part our DNA," said co-founder Cal Almaguer. "It's why we chose this year's National Customer Service Week to unveil our new 'Studios of Expertise.' It's virtually impossible for any of our experts to have an online or in-person experience and not immediately think of ways to make it better."
Around the globe, companies are working overtime to implement protocols to manage the new normal and ensure their customers and employees are safe and secure. The MagicMakers® Group provides key insights and lessons learned in creating customer service magic. Co-founder Rob Mauldin adds, "We've assembled an amazing team that for decades created world-class customer experiences for Disney and ESPN, and now consults with businesses on developing, implementing, optimizing, and creating highly effective customer-centric cultures."
In honor of National Customer Service Week, Oct. 5-9, MagicMakers® Group is offering a Complimentary Webinar, 'Untold Disney Customer Service Stories' on Thursday, October 22 from 2:00-3:00pm ET. Expect great stories like the Disney Custodial Host seen 'entertaining' the guests by drawing a picture of Goofy on the sidewalk using his mop and water. How many times do you think this image was shared on social media? Yes, their job was cleaning but their purpose was making people happy. Those interested can register at www.MagicMakersGroup.com.
At Disney, everyone has a role in the show – a specific job. However, their common purpose every day is to create magical memories that last a lifetime. It's no different in any other business where employees represent your brand and create your culture. Experiences are deliberately designed with the customer in mind, and it takes a Dream Team of well-trained employees to bring those experiences to life.
Customer Service is a collection of a million little things. MMG offers a few friendly reminders of what they call the basics:
Greet every customer with a warm welcome and friendly smile.
Make eye contact and use the customer's name whenever possible.
Convey appropriate body language.
Seek ways to help customers.
Be 'on purpose,' show pride, and protect your brand.
Focus your attention on the customer. Be in the moment.
Thank each customer for their business.
Join MagicMakers® Group in extending a virtual high five to all the Dream Teams on the front lines and backstage who deliver customer service excellence every day. For more information about MagicMakers® Group, visit www.MagicMakersGroup.com.