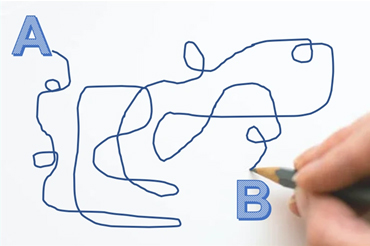 SIMPLE, but not EASY: Using Purpose to create Culture
By Chuck Salvo, Cultural Architecture & Transformation Expert, MagicMakers® Group
I have been fortunate to work for some of the top brands in the world: Hershey, Hyatt, Hilton, and the last 15 years with Disney. In my role at the Disney Institute leading Professional Development and advising top corporations and organizations across the world on Disney's approach to the business behind the magic, I learned enough for three lifetimes.
The science of superior service has been a passion of mine for as long as I can remember, and to be offered a role with Disney that taught me the secrets behind Disney's success was a dream come true. My collaboration with executives from major brands to startups, from government organizations to associations, from B2B B2C, from Finance, Healthcare, Automotive, Transportation, small medical practices, and entrepreneurs gave me an education I could have never received from any school. During this time, I learned that the best run organizations have one thing in common: A Strong foundation formed from genuine values and a clear vision of a bright and shining North Star called an OVERARCHING PURPOSE.
If PURPOSE is the common denominator for high performing organizations, it is also true that "lack of purpose" is the biggest gap and principal obstacle to organizational greatness. The best business schools and consultants teach Mission, Vision and Finance. Some even teach the need for Company Values. However, a very small percentage of organizations have a clearly defined purpose and even a smaller percentage communicate that purpose effectively to their employees.
Perhaps the biggest barrier to solving the "Purpose Problem" is assuming that it's simple and easy to fix. The concept seems so simple that many companies just assign the task to the HR Team without fully committing to the solution at the highest level. Why should they? This is HR's job, right?? The sad truth is the lack of top executive commitment and thinking that building a culture is "simple" are the main reasons so many organizations fail at building a sustainable Service and Leadership Culture.
Simple, but not Easy. I started my career as a trained chef. I remain a devout foodie. So devout in fact that I have struggled with weight my entire adult life. Part of my training and education was nutrition and I understand the science of nutrition. However, it doesn't take a nutritionist to know the formula of weight loss; Burn More Calories + Take in Less Calories than You Burn = Weight Loss, Simple Right! Yet why do millions upon millions of people across the world struggle with weight loss? Many need a personal trainer to lose the weight. Many use a plan like Weight Watchers or just go to the gym and train themselves. Others try a variety of these solutions, but never fully commit – resulting in no permanent weight loss.
Simple, but not Easy!
Organizations are no different in their approach. They try Six Sigma, Who Moved My Cheese, Good to Great, or the newest flavor of the day. What this causes is what I like to call "Initiative Fatigue". I've read countless Employee Engagement Surveys and have spoken with thousands of executives and employees across the world, and I've found that "Initiative Fatigue" is a major factor in declining service. Lack of communication and jumping from initiative to initiative fuels this decline.
The best companies understand that a great culture is built very much like a new building. It first starts with a vision. You then share that vision with a talented architect. Plan in hand, you interview and hire a builder that understands yours' and the architect's vision. You then start clearing, preparing the land and building a strong foundation. That foundation must not only support the weight of the building, but also withstand earthquakes, hurricanes and other natural disasters (or pandemics) known to be lurking. Next, the structure; plumbing, walls, electrical, and then finally you are under roof. Everything beyond this it can be argued is cosmetic to the foundation and structure. Your organization's structure is no different. Whether you are a large company, a small company, an association or a board of directors, this cultural structure is a given. You must to be intentional in building your "purpose" and your "cultural framework". When your foundation and structure is complete and passes inspection, you then can move forward with the cosmetic touches. For your culture those cosmetic touches are: Selection, Onboarding, Training, Communication, Sustainment…
My analogy illustrates the need to be intentional in your search for purpose. Whether you are already successful or searching for success, reaching for that North Star and knowing your purpose won't just bring you long-term success, it will bring your team and your organization greater happiness.
A talent development and culture change agent with deep experience in driving employee engagement, Chuck Salvo spent 15 years with Disney Institute helping companies deliver superior customer service. Now part of the MagicMakers® Group, Chuck uses his unique consultative approach to help transform organizational cultures. From small start-ups to large multi-nationals, Chuck has created programs to elevate and transform organizational reputations of these companies in their communities.